Michael Wermuth, Jr.
- There are many Sesame Street segments that I have heard (or, more accurately, read) about that I would like to see. Including a share of songs that have been released on albums, but actually finding video copies or still images are very rare. And there are four songs from the show that I have heard audio releases of, but don't actually remember seeing on the show, and really want to see the broadcast versions of. Are they among the "holy grail" of Sesame Street clips? That's a matter of opinion, and in my opinion they are. But I should point out that Muppet Wiki currently doesn't have still images from three of these four segments.
And now, the list...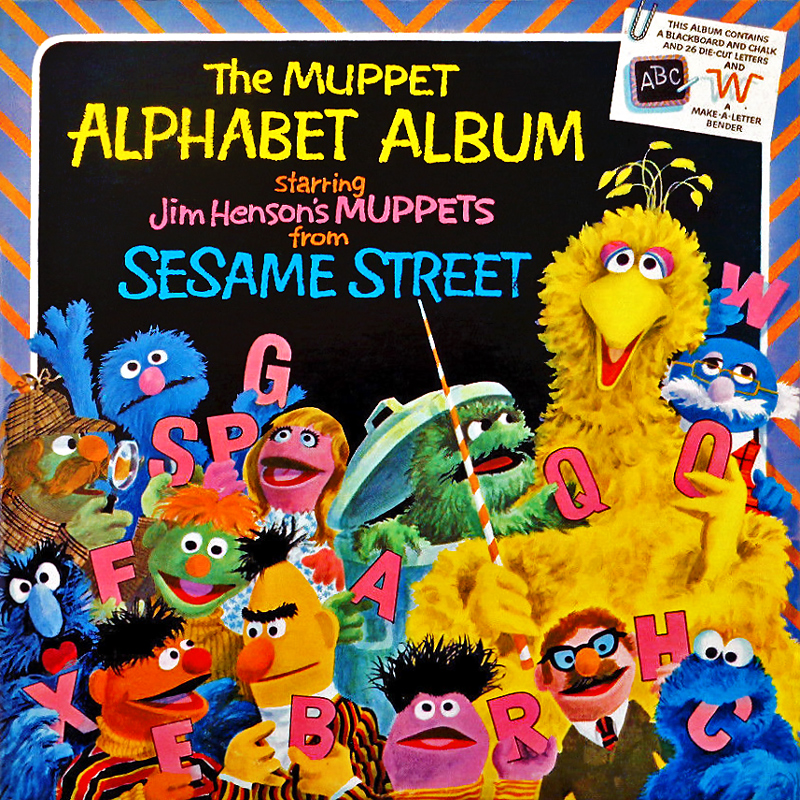 1. "The Sound of the Letter A"
This song debuted on "The Muppet Alphabet Album," sung by Big Bird, and was featured on the show as early as episode 345. Obviously, this song is about the letter A, and it's a real catchy song. Favorite lyric: "And if your name happens to be Alice/Or Ann, or Albert/Then you can say.../To everybody/My name is Alice, Ann or Albert/and my name begins with the sound of the letter A."
2. "Nobody"
This song was sung by Mr. Snuffleupagus, and is the only song I know of that concerns the fact that the adults thought he was Big Bird's imaginary friend (as well as one of the few Snuffleupagus songs I know of from when Jerry Nelson was his performer). This song appeared on the show as early as episode 533 and was also sung on the "Sesame Street LIVE!" album. It is a great song to listen to. Favorite lyric: "Everybody opens up to the moon and the spring/and I know why/everybody opens up to familiar things/but strange things make them shy, and afraid sometimes."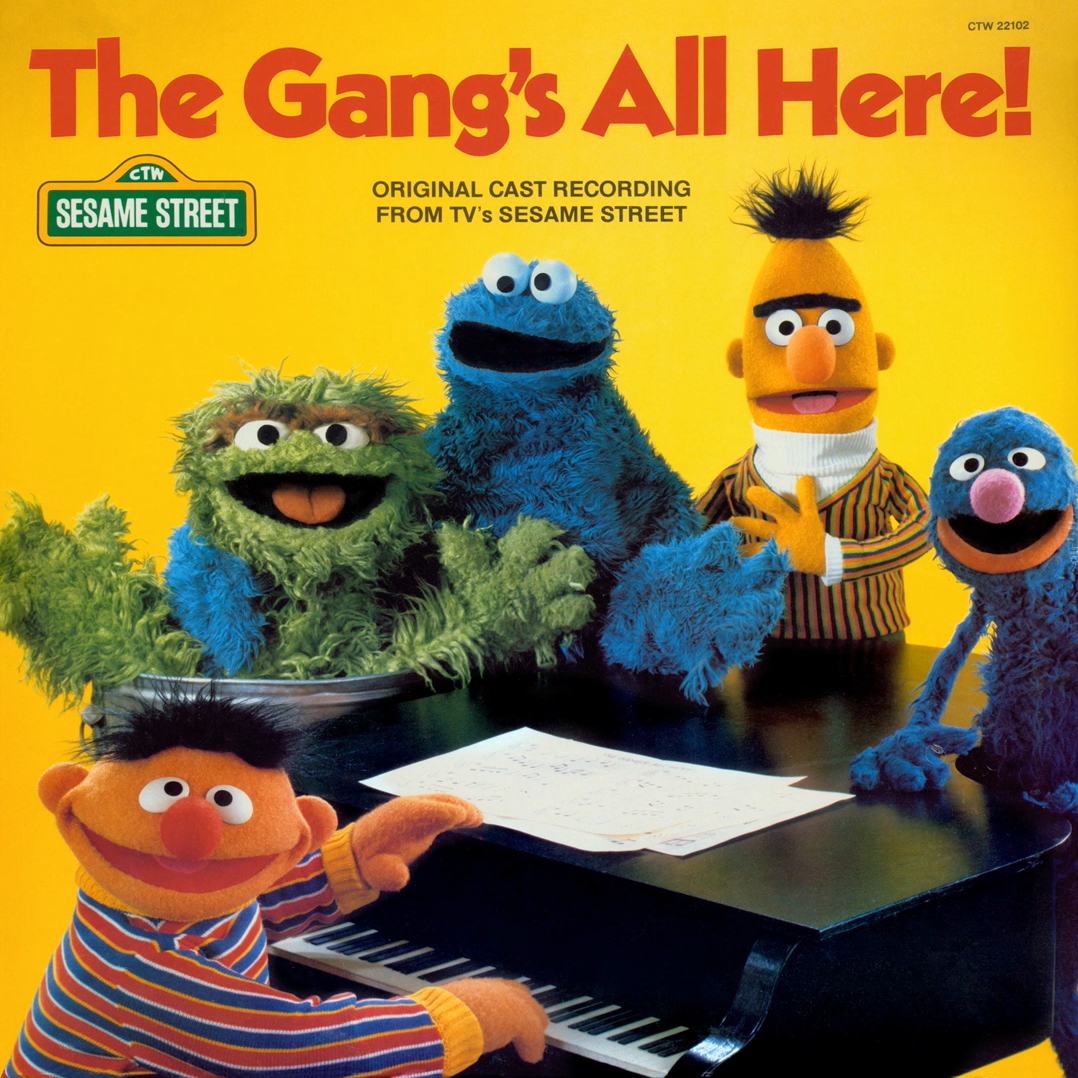 3. "I'm Square"
This song was sung by Bert, and appeared on the show as early as episode 1004 (and was later released on the album "The Gang's All Here"). This song has Bert singing about how proud he is of all his interests that make him "square," and about how he doesn't really care if he likes what everyone else likes. In fact this song represents Bert better than "Doin' the Pigeon" does, as he expresses interests in bottlecaps and paper clips, not to mention many interests not mentioned outside of the song (such as a brick collection, which I find hilarious). I'd really like to know where this song took place - On the street? On a city street (not necessarily Sesame Street)? In front of a plain-colored backdrop? The fact that it ends with Bert acknowledging a fire hydrant he sees indicates that it didn't take place in his apartment. Favorite lyric: "I like yawning when evening is done/I like the beach when there's not any sun/cleaning out ashtrays is my kind of fun/I'm square, I'm square, I'm square."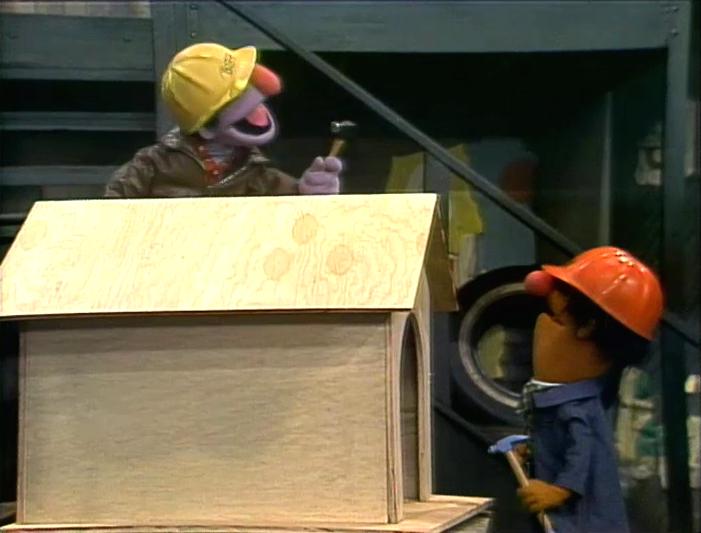 4. "We Coulda"
This song, released on the album "The Gang's All Here," was sung by Biff about various other jobs he and Sully could have been instead of construction workers, as he and Sully imagine themselves in the various jobs. Stills from this segment have surfaced on Muppet Wiki, thanks to it recently being found in one of the international shows (can't remember which one). It's also one of the rare instances where Biff and Sully can be seen without their hardhats. Part of me is listing this song more because it involves Biff and Sully, but of all the songs Biff has sung, this one is my favorite. Favorite lyric: "We coulda been actors/we coulda been cooks/coulda been writers and written some books!/We coulda been farmers, making some hay.../Well anyway, we coulda! We coulda!/ But no sir-ee/'cause someone's gotta hammer/someone's gotta hammer!/someone's gotta hammer/that some is you and me!"
Well, that's the list. I don't know if this list will result in me getting to see it, but if anybody from Sesame Workshop is reading this, particularly those in charge of selecting clips to release on DVD and/or online, please get these out so I can see them. In fact with the 45th season coming up in a few years and the assumption that the 45th anniversary will be celebrated these would be good clips to include.
The Muppet Mindset by Ryan Dosier, muppetmindset@gmail.com