Elmo's Alphabet Challenge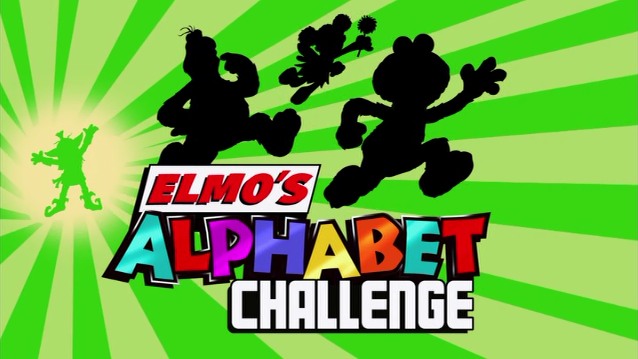 Shane Keating
- Lately, the majority of the Sesame videos we're getting are just compilations of recent street stories with a couple of recent segments thrown in; I'm assuming this is for budget reasons, making it a way of getting their money's worth on them. So when we get a DVD that not only features newly-created material, but a 50-minute original special, it's quite special. And that's what brings us to Sesame Street's newest video--
Elmo's Alphabet Challenge
.
Though not technically a movie as advertised (it runs about 50 minutes), it's the first direct-to-DVD special we've gotten since
Abby in Wonderland
in 2008. Now, don't let the the title and cover fool you; Elmo is NOT the star of the video. It's an ensemble piece for Elmo, Telly, and Abby (the latter is probably the most prominent of the three in fact). A lot of effort was put into this release, so let's take a look at it.
Abby shows off her new "Fairy Fly Pad" (guess the spoof) to Elmo and Telly and the device recommends a game for them to play--"A.B.C-more's Elf-Abet Challenge," a game they can really get into. They all tap the screen and are zapped into the game, where to get their freedom, they must defeat "alphabet expert" A.B.C-more in his game. All the video game scenes are rendered in CGI (with the exception of two games, presented in 2D and 8-Bit to match the styles). I'm sure some people are getting put off by the recent trend of putting the Muppet characters in non-puppet forms (such as in Abby's Flying Fairy School, Bert and Ernie's Great Adventures, those letter songs from Season 40), but given the context of this video, I can understand why (they are in a video game after all).
A.B.C-more proves he doesn't know much about the alphabet (he thinks Cactus starts with B) as the furry friends best him at his own game, which changes style when he gets fed up with each format. Each level of his game spoofs different, popular video games, including Super Mario Bros., Angry Birds, World of Warcraft, Dance Dance Revolution, Guitar Hero, and Pac-Man. There's also a racing game, which I'm pretty sure is supposed to spoof Need for Speed, but it looks and feels more like Mario Kart.
The movie itself is fine. It's pretty entertaining, the songs are catchy (the opening and closing songs are the better ones though) and Telly's constant freaking out is always great. Also, this may be the first Henson production to use the word "hipsterrific." If there's anything I see as an issue, it's that some letters are labeled with only one sound instead of the two they do make (they only use the hard C sound, etc.). Also, there's as much "over-the-kids'-heads" humor as I come to expect. I mean sure, kids might not get the spoofs, but most of the humor is derived from A.B.C-more's hubris-driven mess-ups. Though there is a sly "Pinball Number Count" reference if you can find it (what that's doing in an alphabet-related special I'll never know).
As for bonus features, there's a pretty nice feature--26 short animated storybooks for each letter of the alphabet. The books were originally from the mid-90's, as part of a series called "Sesame Street ABCs." They're all narrated by kids with no Muppet voices. I was kinda hoping some bonus segments would be included, but these are fine and give the spotlight to characters not present in the main feature. There's also some parenting tips, activity pages, and a neat poster. My copy came with an iTunes code for three free Sesame episodes, which is great. I'm pretty sure it's only available at Kmart, so if you're gonna get the DVD, do it there!
All and all, this a fine DVD. It's great for learning the alphabet, it's fun, silly; kids will love it. It's not the funniest Sesame release, but it's creative and is a fine way to spend 50 minutes.
The Muppet Mindset by Ryan Dosier, muppetmindset@gmail.com