Sesame Street Season 41
Episode Recap, part 5
Shane Keating
– Here's the rundowns for the last few weeks of episodes!
EPISODE 4227 – FETCH THE LETTER "I"
Telly and Elmo build the letter I using their Letter of the Day Kit. Meanwhile, Rosita plays with Iggy the dog and throws a stick for him to fetch. Iggy mistakes the I for the stick and grabs it. Elmo and Telly then make many attempts to get their letter back.
A pretty "meh" storyline, if only good for Telly. I was half expecting them to reference the classic cartoon in some way.
New Segments:
Terrence Howard explains to Elmo what "incognito" means. Some passing animals in disguise help, as well as a second Elmo.
Animation: Traction Jackson and his friend see a sign with only a neon I and sing about the many words it could start. It's not often we see him anymore and I'd really hate to loose this character, so it's good they still make new bits with him.
EPISODE 4228 – RAHKI ROAD
Today is Rhaki, an holiday celebrated in India where brothers and sisters show their love for each other by making bracelets for them. Leela is expecting one from her brother in the mail. Telly and Zoe are intrigued and make bracelets too. Telly goes haywire, finding more and more people he considers a brother or sister and makes dozens of bracelets. Meanwhile, Chris tries to cheer Leela up by making a Rahki party with Elmo. They are all lured into Hooper's and find a Rahki party waiting for them. And finally, Leela's bracelet comes for her.
This story had such a classic vibe to it. I could totally see it airing with segments in between it like the old days. And Telly's neurotic worrying is back and on full blast!
New Segments:
Alton Brown and Abby cook up a "recipe" for fun!
Film: The letter U stands for "umpire", "umbrella," and "underwear". A really funny short film.
Cartoon: Indian images count to 19. The new letter/number segments this year have been really good, I must say!
Super Grover 2.0 – Grover helps a chicken get to the other side of the "Pretty Good Wall of China." I think this segment set the record for the most chicken jokes in a 5 and a half-minute period.
Cartoon: A creature hugs a sad, smaller creature, making him happy. One of the finalists in the aniBOOM contest.
EPISODE 4229 – PUDDLE JUMPING
Elmo can't wait to jump in a puddle once it starts raining, but no puddles are around. While he waits, he runs into Baby Bear, who sings about showering in the rain (a verse from the classic Sesame song). He then meets Stinky the Stinkweed, who uses the rain to grow a flower. Cookie Monster comes by, pretending the rain is cookies and sings "It's Raining Cookies" to help Elmo imagine it too. He then comes across Oscar, who's collecting rain in his bucket to save for sunny days. Finally, he helps Rosita and Big Bird share an umbrella to get to Hooper's. At last, there are some puddles for Elmo and friends to jump in.
An alright story. It's great to see Oscar and Big Bird in the same episode, plus Stinky (who's not used as much these days). Plus, how can you NOT love Cookie's "It's Raining Men" parody?!
New Segments:
Jennifer Garner and Abby show what goulashes are.
Super Grover 2.0 – An elephant and sheep need help balancing the weight in their boat.
EPISODE 4230 – SAVED BY SUPERFOODS
Elmo doesn't know what is on his plate. Super Grover fails at helping, when the Super Foods arrive and point out it's a kiwi and convince him to try it, Elmo does and he likes it! Super Grover goes off to find someone else in trouble. He finds Rosita unable to open her snack bag. Grover rips it open, spilling the contents on the ground. The Super Foods arrive again and show her the "rainbow" of snacks she could have instead. Fed up, Grover comes across a chicken trying to lift his heavy suitcase. Grover insists he help, but can't lift the suitcase at all. The Super Foods appear once more to show him that because he skipped breakfast, he has no more energy. After trying some, he gains his strength back and everyone sings in praise of the Super Foods.
This story was originally made for an educational resource video, "Food for Thought." I'm not sure why they put it into an episode; but it's full of some great Super Grover moments! And the songs are pretty good too, my favorite being "Try, Try Again."
New Segments:
Grover suckers Mr. Johnson into playing the Letter G Game and gets many G-word prizes (unneeded, mind you).
Cartoon: 5 trucks build a 5 in the sandbox. Animated by the same guy who does the Elmo's World cartoons.
Cartoon: A roll call (Imagine the pun). Another aniBOOM Contest entry.
EPISODE 4231 – TWINS DAY
Today, Hooper's in celebrating Twins Day. The Count spends the whole day counting to 2. Chris has even brought his fraternal twin sister, Christy. Zoe and Abby want to be twins too, so they try to find ways they can be twins. They can't do the same things as each other, which they think means they can't be twins. Chris and Christy tell them that some twins look alike. With some magic, Abby makes Zoe look like her, and then changes herself into Zoe, but neither image works for them. They both find they like jumping, which means they can be "The Jumping Twins" and join the party.
This was a pretty good episode. Abby and Zoe were great and Christy was an interesting treat. Plus, it's got the Count! There's also a great running gag with Telly seeing double.
New Segments:
Sherri Shepherd and Abby show things that are "identical."
Animation: Counting to 10 by 2s
Cartoon: Question of the Day – Diversity. One of the aniBOOM finalists.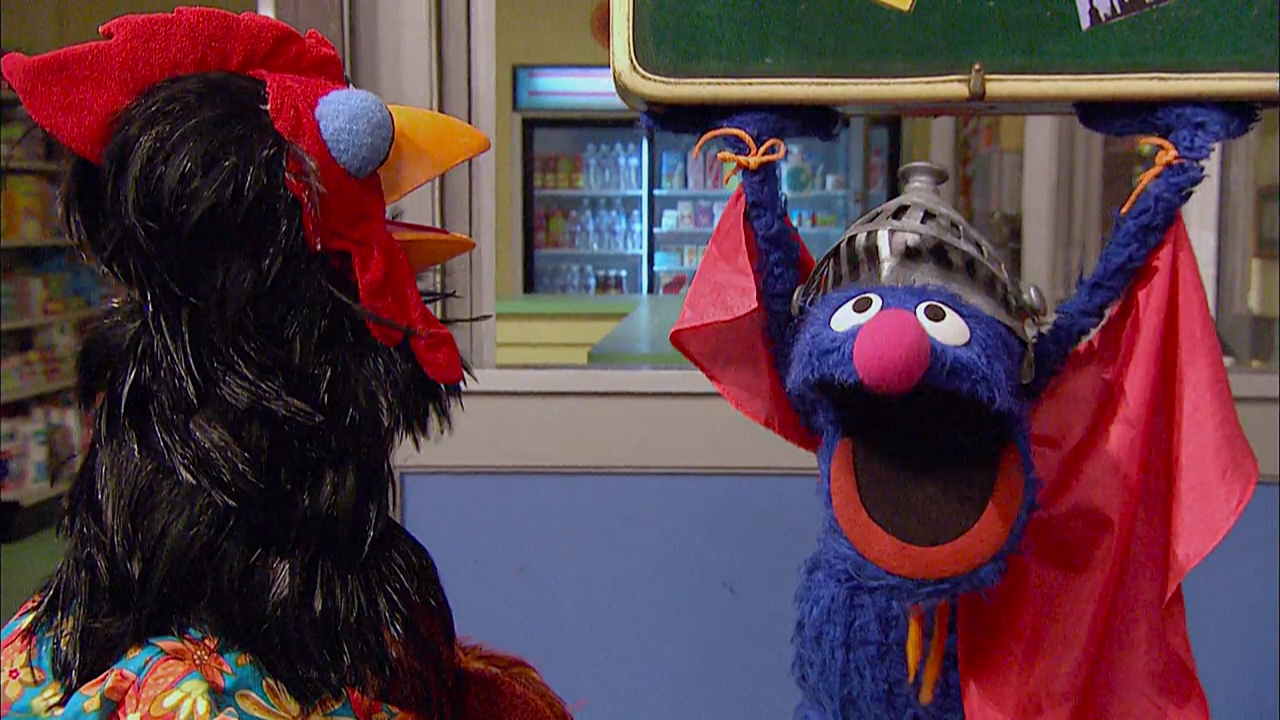 The Muppet Mindset by Ryan Dosier