GOBO FRAGGLE
Performed by...
Jerry Nelson
First appearance...
Fraggle Rock
Season 1, Episode 101: "Beginnings" (1983)
Most recent appearance...
The Muppets Celebrate Jim Henson
(1990)
Best known role...
Leading, adventurous, smart, musical, confident Fraggle; leader of the Fraggle Five; nephew of Traveling Matt; best friend of Wembley; postcard collector
WHO IS GOBO FRAGGLE?
Gobo Fraggle is the self-proclaimed and usually accepted leader of the Fraggle Five, consisting of Mokey, Wembley, Boober, Red, and himself. Gobo is also the nephew of the renowned Fraggle explorer Traveling Matt. Gobo follows in his uncle's footsteps with interests in exploring, adventures, and over-confidence and sometimes-false bravado. Gobo is also very musical, playing the guitar and singing many songs.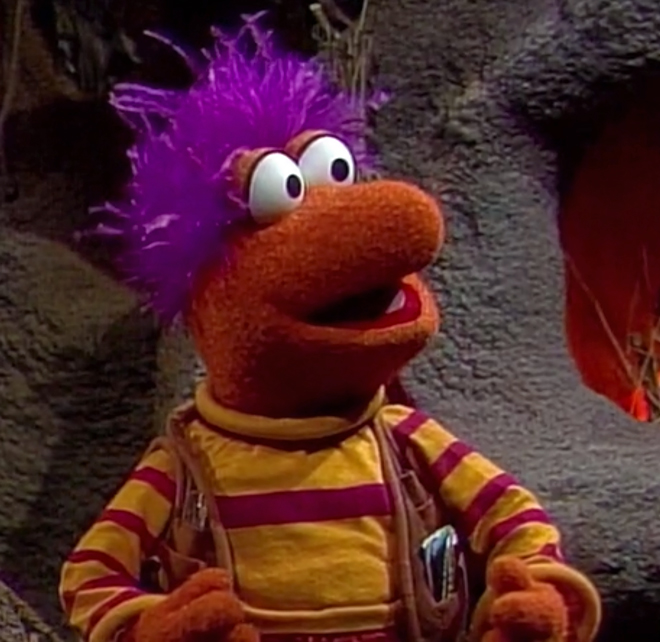 Gobo's look changed a few times before it became concrete. In the earliest filmed episodes, such as "Thirty Minute Work Week," Gobo's snout is more pronounced and he wears a brighter purple jacket and a yellow sweater. In the first few episodes of Season 1, Gobo's face became more round and he donned a dark purple jacket and a yellow sweater. Starting in the episode "We Love You Wembley," Gobo gained his signature, staying look which consists of a round face, short hair, brown vest, and yellow sweater with orange stripes. One of Gobo's random, defining characteristics throughout the run of the series was his collection of odd hats that he would sport in various episodes.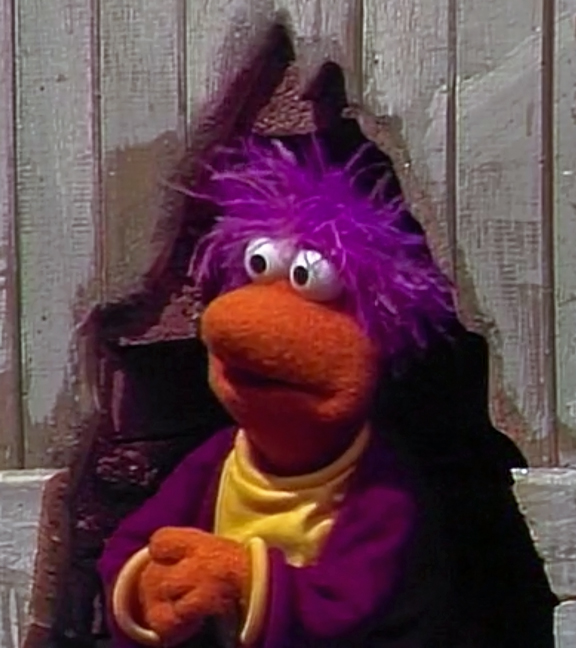 In the first episode of
Fraggle Rock
, Gobo was charged with collecting postcards sent by his Uncle Matt on his journey in the outside world. Gobo must enter the "First Room" in Outer Space in order to retrieve these postcards, avoiding the paths of the Silly Creature, Doc, and his Hairy Beast, Sprocket. With time and experience, these obstacles became easier for Gobo to overcome and became less of a focus for the show. Unlike earlier episodes, such as "Don't Cry Over Spilt Milk," in which Gobo was trapped in Outer Space for the entire episode.
Gobo's best friend is Wembley Fraggle. Although sometimes Gobo gets frustrated with Wembley's inability to make up his mind or think for himself, Gobo and Wembley are friends till the end (as they've sang about on multiple occasions). Together, Gobo and Wembley discovered the Beast of Blue Rock, challenged each other in "The Great Race," battled through the wrath of the Grapes of Generosity, and has saved Wembley (and been saved by Wembley) on multiple occasions as well. Yet, through it all, Gobo and Wembley remain best friends.
A close competitor for Gobo's friendship is Red Fraggle, who challenges Gobo at every turn, yet remains one of his closest friends. They are constant rivals, competing for leadership of the Fraggle Five, sports such as rock-hockey, and plenty more. In "The Challenge," Gobo and Red's feuding ends up getting them, and Boober, trapped in the Gorg's Garden. Once they learn to work together (and enjoy some honky-tonkin' grief and "Dixie Wailin'"), they are able to escape and agree that both of their skills are worthwhile.
Gobo also has close relationships with Mokey and Boober, using his leadership skills to help them both on various occasions. In "New Trash Heap in Town," Mokey becomes the new Trash Heap for Fraggle Rock and gets in over her head. Thankfully, Gobo is there to help her out in a pinch and they share a duet with the touching song "Helping Hand." Although Gobo never shared any full episodes with Boober, he did help Boober out on multiple occasions including "Sidebottom Blues" and "Boober Gorg."
With his Uncle Traveling Matt, Gobo has a very interesting relationship. Gobo has an odd mixture of adoring respect and crippling jealousy towards his uncle. In the second season episode "Uncle Matt Comes Home," Gobo is thrilled at the thought of joining his uncle on his adventures, but Matt's big-head prevents Gobo from doing that as Matt treats Gobo like a little kid. Finally, in season four's "Uncle Matt's Discovery," when Uncle Matt comes home permanently, Gobo gets his uncle's respect and helps him to find a magical archway. Despite this, Gobo is (after the first few season) always willing to embark into Outer Space to retrieve the postcard from his uncle.
In the later parts of the series, Gobo develops a relationship with Junior Gorg. In the season three episode "Bored Stiff," Gobo and Junior battle against Boredom Juice to save Fraggle Rock. After this episode, they seem to reach something of an understanding. Gobo helps Junior find his royal self with Cantus and the others in "Junior Faces the Music." Their relationship comes to a peak in the second to last episode of the show, "The Honk of Honks," when Junior graciously gives Gobo a Gorg horn to make the Honk of Honks.
As the main character of the series, Gobo had many interactions with nearly all of the other characters on the show. He and Cotterpin Doozer journeyed into "The Cavern of Lost Dreams," he travels with Sprocket and Wrench Doozer inside Fraggle Rock in "The Voice Inside," and he sets out with Cantus to find the truth about The Great Bell in "The Bells of Fraggle Rock." He also has asked for aid and advice from Marjory the Trash Heap on multiple occasions.
Perhaps Gobo's most important interaction in the entire series was in the final episode, "Change of Address," when Gobo reveals himself to Doc and implores that he "cannot leave the magic" by moving away. Doc does end up moving away, but Gobo discovers that the magic is all around him and at the end of the series Fraggle and Silly Creature become friends.
GOBO FRAGGLE AND JERRY NELSON
Gobo was the first main character performed by Jerry Nelson on a major Jim Henson series (after performing secondary characters such as Floyd Pepper and Count von Count on
The Muppet Show
and
Sesame Street
). Because of this, Jerry got to show his leading man capabilities, making Gobo both flawed and lovable throughout the run of
Fraggle Rock
. In
an interview
with The Muppet Mindset, Jerry discusses Gobo's character saying, "Though he is at times conflicted, he wants to do the right thing and usually works it out so that the right thing ends up getting done. Sometimes he comes to it on his own, sometimes with the help of his friends and at times even those he might think of as his enemy. The important thing is that he strives to be loyal, compassionate and honest."


GOBO FRAGGLE SONGS
Gobo is one of the most musical Fraggles in Fraggle Rock. Below is a list of just a few of his songs from the show...
"Wemblin' Fool" with Wembley Fraggle
"Catch the Tail by the Tiger"
"Follow Me" with Traveling Matt
"Friends Til the End" with Wembley
"The Rock Goes On" with the Fraggles
"Get Goin'"
"Only Way Home"
"Dixie Wailin'" with Red, Boober, and Junior Gorg
"Just Can't Be the Me I Wanna Be"
"Whoops! Feelin' Better!" with Junior Gorg
"I Knew I Was Good"
"Goodbye Goodbye" with Wembley
"Travelin' Free" with Sprocket and Wrench Doozer
"Once Upon a Time (I Knew My Name)"
"Petals of the Rose"
"I Don't Understand Him" with Traveling Matt
"Helping Hand" with Mokey Fraggle
WHY DOES FRAGGLE ROCK NEED GOBO FRAGGLE?
The necessity of Gobo Fraggle to the land and show of
Fraggle Rock
cannot be understated. He is the leader of the group of main characters on the show, but to the world of the Fraggles he is even more important. Not only has he discovered various new locations throughout the Rock, expanding the horizon for the Fraggles, but he united the Fraggles with many other species. His interactions with Cotterpin and Wrench Doozer showed that Fraggles and Doozers could get along, his friendship with Junior Gorg became the only reason that Fraggles could eventually venture out into the Gorg's garden, and, of course, his revealing himself to Doc united Fraggles and Silly Creatures in harmony for the very first time.
What's more, Gobo represents the true essence of Fraggles. He is fun, he loves to sing and dance, and he is free. Yet, at the same time, Gobo's trials and tribulations show what more a Fraggle can be. He questions himself in "Gobo's Discovery," and he unites the world, something that Fraggles such as Red and the World's Oldest Fraggle are staunchly against until Gobo proves it can be done. Gobo is the true heart of
Fraggle Rock
, and he gives the series character, weight, and fun.
The Muppet Mindset by Ryan Dosier, muppetmindset@gmail.com